If you're looking for aluminium security door screens that are made for Australian conditions, ALU-GARD is the answer.
ALU-GARD is a perforated aluminium sheet retained in an extruded aluminium frame. It provides security, excellent clarity of vision and strength. These security screens are corrosion resistant and they look great, with custom design options for any home or business.

ALU-GARD Design
ALU-GARD utilises a strong (2mm thickness), non-corrosive aluminium sheet that is perforated and powder coated to Australian Standards specifications. The sheet is retained in a frame with our riveted aluminium wedge retention system. The resulting screen is strong, extremely resistant to corrosion and it provides excellent clarity of vision.
See Our Full ALSPEC Range of Door and Window Security Screens
Fleming Security Doors & Screens has all the latest ALSPEC products. As the manufacturer of ALU-GARD, ALSPEC offers a complete range of screening systems. We have everything from our top of the range INVISI-GARD stainless steel security screens through to all the ALU-GARD products.
We also have Federation Cast Panels, Diamond Grilles, one-way vision mesh, fibreglass and aluminium insect screens and all the associated accessories. Ask us for an obligation-free quote on our ALSPEC range.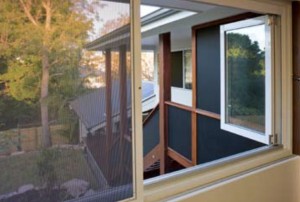 Custom Built
All ALU-GARD products are custom built and made to measure to suit your exact requirements.
ALU-GARD Security Screens are suitable for a wide range of residential and commercial applications including:
Hinged doors
Sliding security screens
Window security screens
ALU-GARD Test Performances
The ALSPEC ALU-GARD Screen Door System has been tested in an approved NATA test rig to Australian Standards AS5041-2003 for hinged security doors.
Knife Shear Test
PASS
Dynamic Impact Test
 PASS
Jemmy Test
 PASS
Choice of Stylish Colours
With ALU-GARD products, matching the colour to existing security door and window frames is easy. A full range of powder coated colours along with anodised finishes are readily available from your ALU-GARD dealer.
Find Out More
For more information about our fabulous ALSPEC ALU-GARD products, call us today on 03 9761 9377 or enquire online.
Ask our friendly experts at our Montrose, Melbourne headquarters about your needs. We'll help you to choose the best security door screens, provide a range of design options, and assist you with a free quote!