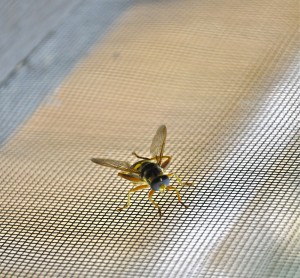 There are a huge variety of fly screens available these days. The range of brands, prices, designs, and features can make choosing one a tricky decision. What's not tricky is deciding that you don't want flies or mosquitos buzzing around your house.
Our handy guide helps you choose the right screens for your home.
How Much Should I Pay?
A fly curtain or velcro insect screen will only set you back $10-50, or even less, but it will wear out quickly and become unsecured easily.
A more durable option is to buy a fly screen and install it yourself. This will cost you around $30-$50 plus labour for installation.
Having screens professionally installed will cost around $33 for windows and from $240 for high quality sliding insect screen doors. These options put a dent in your wallet but you get a quality product professionally installed.
Should I Worry about How It Looks?
If you don't care too much about how your screen looks, go with velcro or other temporary screens. If you want something stylish on a budget, standard screen doors from Bunnings or elsewhere offer you more choices. For fly screens that really look great, though, see a specialist. They offer a wide range of styles and may even be able to tailor your screen's colour.
How long will it last?
Durability varies between different products. Temporary screens wear out very quickly. Both uPVC and aluminium doors are long lasting and tough.
Should I Install It Myself?
That all depends – some simple window screens come in easy-to-assemble kits, but bigger mesh fly screens for doors or sliding insect screen doors will be harder to get right. If you have any doubts about your DIY skills you'll save time and hassle by getting a professional installation.
Get in Touch
Fleming Security Screens and Doors stock a wide range of mesh fly screens and sliding insect screen doors. If you want a free measure and quote in Melbourne's east call us on 03 9998 6082 or enquire online.